Publications
Student Org. Handbook
Several student organizations utilize the MCC for weekly meetings, semester activities, and other organization business. The MCC encourages and supports organizations and their leadership. The following document is a guide to understanding our services, policies, and expectations.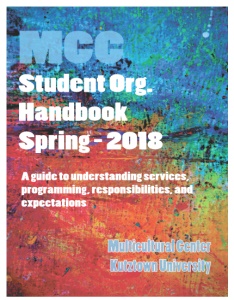 Native American History, November 2017
The following publication was researched by MCC student workers, Anna Nissley, Brittany Brown, Yokaira Cabrera, Gabby Smallwood, and Manny Gonzalez under the direction of MCC graduate assistant, Farah Nazzal. Please click on the link below the image to read it.
---
The Navigator

This yearly publication is mailed to incoming Freshman. It is also used at various open houses and the Connections programs during the summer. This booklet gives a brief description and contact number for various non-academic departments. It is a good reference guide for those needing an answer to a question.
Contact Rhonda Branford to inquire about The Navigator. Click below to view the recent publication of The Navigator.
Women Who Inspire

The Women Who Inspire booklet is published annually in March in conjunction with Women's History Month. Submissions to this booklet are by students, staff, and faculty, and each piece is about a woman or women who have inspired the writer. This project, coordinated by a graduate student, takes submissions until mid-February and is then published and distributed in March. Please contact the Center for more information.